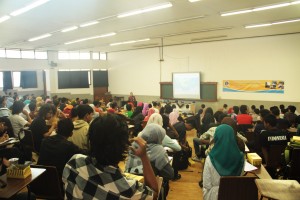 Bandung, fitb.itb.ac.id, (08/02) Located in East GKU ITB had organized an introduction program (Prodi) student preparation stage together in 2014. The purpose of the introduction of this study program is a source of information for students to choose Prodi in accordance with the interests and based on other variables so that students can make their choice.
The event presented several invited guests as an envoy to present / promote each study program include Dr. Ir. Joseph Surachman Djajadiharja, M.Sc. (Deputy for Geospatial Information Infrastructure), Drs. Zadrach Ledoufij Dupe, M.Sc., Drs. Saut Maruli Lubis, M.Sc., Dr. I Gusti Bagus Eddy Sucipta, ST, MT., Dr.Ir. Anwar Khoiril Maryunani, MT., Agus Mochamad Ramdhan, ST, MT, Ph.D., Ir. Samsul Bahri, M. Eng., Ph.D., Dr.rer.nat. Dudy Darmawan Wijaya, ST, M.Sc., Muchamad Al Azhar, S.Si., M.Si., I Dewa Gede Agung Junnaedhi GMT, S.Si., M.Sc., and moderated by Drs. Zamzam Akhmad Jamaludin T., M.Sc.
The event started at around 08.00 pm and was opened by the Vice Dean for Academic Affairs Dr.
Ir.
Bambang Priadi then continued with the presentation of speakers for each study program for 30 minutes.
The topics presented by each speaker finally boiled down to one thing, namely about the need for the role of ITB graduates, especially in the field of geoscience given the lack of human resources in Indonesia is now able to field the even Dr.
Edvin Aldrian (One of the researchers of three Indonesian investigators who entered the ranks of 3000 scientists in the world) said that Indonesia was colonized in the field of geoscience.
After the first session is completed followed by a session of questions, students difficulty asking questions to be lured by the moderator even different from the first phase were very enthusiastic.
Then the ceremony continued with the formation of groups and dispersed in different places for the introduction of further study program at the same time guided by several lecturers.
… Other News.