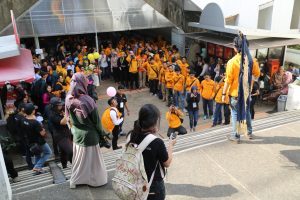 Bandung; fitb.itb.ac.id
Saturday, October 22, 2016, at Sasana Budaya Ganesha (Saraga), Bandung Institute of Technology held the graduation ceremony for the entire Program Bachelor, Master and Doctor of all Faculties and Schools.
In this graduation ceremony of the Faculty FITB represented by Mr. Ir. Benjamin Sapiie, Ph.D. (Vice Dean for Academic Affairs), Dr.Mirzam Abdurrahman, ST., MT. (Trustees Student Affairs GL) Edy Riawan, S.Si., M.T. (Pembina Student ME) Dr.Budhy Soeksmantono, S.T., M.T (Student Trustees GD) Farrah Hanifah, S.Si., M.Si (Student Trustees OS) graduates / wisudawati, and staff education personnel.
For graduates of the Faculty of Earth Sciences and Technology ITB numbered as many as 148 people, consisting of:
S1 Meteorology 10 people,
S1 Oceanography 12 people,
S1 Geodesy and Geomatics 55,
S1 Engineering Geology 38,
Earth Sciences S2 5 people,
S2 Mechanical Groundwater 1,
S2 Geodesy and Geomatics 11 people,
S3 Earth Sciences 1,
S3 Geodesy and Geomatics 4 and
S3 Engineering Geology 1.
Graduation Academic School Year 2016/2017 is also given to graduates predicated peenghargaan Cumlaude achieved by 22 people from various courses.
The following list of graduates of the Faculty of Science and Technology of Earth 2016 "List of Completion"